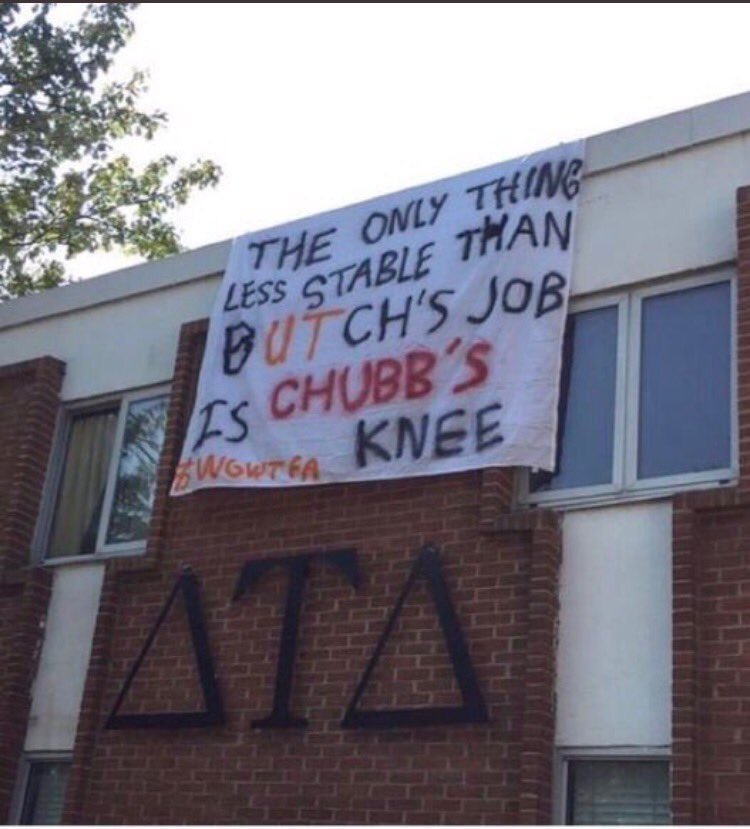 (https://pbs.twimg.com/media/DK1MrAdVYAEsYu4.jpg:large)
10-1-2017
Terry Godwin fumbled the ball and stood there reacting by raising his hands over his head to cover his head with this hands instead of attempting to recover the fumble.  It went out of bounds.  All the receivers did all night long was DROP the ball.  Again.
The OL blew assignment after assignment all night long.  They also contributed to the penalties called on the Offensive Linemen as well.
Still Kirby stood pat on his redshirting and not playing of significant help at both receiver and on the OL.
14 games is an incredibly long season while Auburn is showing quite tough themselves.  We could face Auburn twice and could face Alabama twice this season as well.
Yes we are that good.
I called prior to the season beginning that we would Win The SEC Championship 2017 and in fact I guaranteed that from the end of the TCU game until now.
I called for the Jake And Jake Show pre-game tonight.
I called for Jacob Eason at half time in that post then as well.
I do just wish we would play all our players.
Tonight I felt that Jacob Eason could have been brought in earlier than he was.  I saw the palpitations of anxiety and angst upon the face of Jacob Eason when ahead 38 to nothing in the 4th Quarter that Kirby sent Jake Fromm BACK OUT AGAIN.
That is just wrong.
Kirby could have handled that better.  Kirby does NOT want to have Jacob Eason transfer.
Kirby played 68 players tonight with Lorenzo Carter in his Dawg House who quickly dove on their fumbled snap.
I guarantee you will see some transfers now that game 5 is in the books and several stars who will play in the NFL are not playing while Kirby plays pattycake with guys such as at receiver and on the OL who will never play on Sundays.
Kirby has favorites and says they are because of practice which of course only he sees.  What we see is that we have tremendous talent on the team – some of whom barely get to play at all who just stand out when they do for us to see.
15-game season is a possibility.  Kirby is going to wish he had more than 68 players in the rotation 2017 season.  Why have 85 on Scholarship and play only 68 players Kirby ?
The national press has jumped all over us FINALLY while THIS BLOG said we would WIN The SEC Championship 2017 from the outset because only 4 other teams have more talent than we have.
It's October.  Where would we be today without Jake Fromm ?
It's October 1 Kirby.  It's not too late.  Get your other Offensive Linemen in the games and get your other receivers in the games Kirby.  Good Lord son it was 41 to nothing and you still did not get your Offensive Linemen I called to be STARTING by now in the game at all and you did not throw to your talented receivers you have as well.
But the OL you did play had penalties and blown assignments all night long.
And your receivers did NOTHING but drop the ball Kirby.
Long season 14 or 15-game season Kirby.  You can not make it through such a SEC Championship Season 2017 with just 68 players playing Kirby this year.
It's not too late.  Get your help on the OL out there playing in 41 to nothing early games Kirby.  And get your receiver help out there catching passes in 41 to nothing games Kirby.  You will certainly need both groups by game 14 I can assure you.
10-1-2017