Willie McClendon is way far up on my Favorite Bulldog of all-time list.
Warren McClendon is Willie McClendon's nephew.
https://res-4.cloudinary.com/rivals/image/upload/f_auto,q_auto,t_new_profile/wrr0blbk3seywuhrpsrh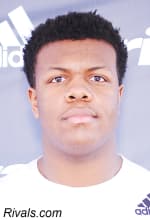 Warren had 18 scholarship offers before pushing Kirby's 2019 class inside the top 10 in the nation.
Sam Pittman gained Warren McClendon's Commitment for us over offers Warren McClendon has from Alabama, Clemson, Auburn, Florida, Michigan, Miami of Florida and Oklahoma.
7-17-2018