43-9 UGA Georgia Bulldogs seniors travel to Atlanta to take on Georgia Tech at Grant Field (what a horrible name for a football field naming it after the Commander in Chief of the Union Army in the War of Northern Aggression who promptly burned Atlanta to the ground) Georgia Tech's seniors are only 24-24.
45 UGA wins of latest 62 games against "rival Georgia Tech" since 1957
41 of latest 55 since 1963 UGA wins
15 of the latest 19 UGA wins
9 in a row at Grant Field UGA wins
5 NCAA Major Infraction Database CHEATING Georgia Institute of Technology
Georgia Tech 5 (Five) NCAA Probation including "HABITUAL PROBATION" status
Today GT is whining about 5th NCAA Probation too harsh
NOT that they did not do it. Georgia Institute of Technology concedes they ARE GUILTY of NCAA Probation which they appealed NCAA for this last week over the harshness because they are REPEAT OFFENDERS.
# 51 recruiting ranking Geoff Collins at Georgia Tech.
How is he doing well at Georgia Tech at 3-9 after today ?  Well punks ?
Average won 6 lost 5 since 1957 the # 51 won/lost record latest 62 years
No one in Atlanta gives a SHIT about Georgia Tech
Paul Johnson's last 4 years at Georgia Tech he won 1 bowl game lost 1 bowl game and was not qualified to play as one of the top 80 football teams half of his last 4 years and thus fish fry was FIRED.
When Paul Johnson LOST to UGA told press he had "bigger fish to fry."
# 46 best college U.S. News and World Report Best Colleges The University of Georgia vs the # 35 best colleges Georgia Institute of Technology 2019 latest report.  https://www.ajc.com/blog/get-schooled/university-georgia-ranks-public-campuses-but-tech-still-ahead/Kqmn88vBi8QSpBsmHla4vK/  Georgia Institute of Technology is NOT Princeton or Harvard quit acting like it is.  Fools.  Stick THIS up your God Damn ASSHOLES.
5 Paul Johnson bowl wins 8 losses which is better than NO BOWL AT ALL Geoff Collins who has no affiliation with Georgia Tech. Paul Johnson also put Georgia Tech on NCAA PROBATION twice in his short tenure for 5 times in total now Georgia Tech on NCAA Probation.
Geoff Collins 3-8 at Tech left the team he was coaching called Temple whatever the hell that is to jump on this bullshit job at Tech. Geoff Collins ducked out the back door and refused to meet with the players to tell them he was leaving Temple to come to Georgia Tech.
Paul Johnson's last 4 years he won one bowl game. One. He lost one. He did not even get to play in a bowl game twice of the last 4 years.
Georgia Tech NO BOWL GAME 3 of the current 5 years.
Joke by Coke
City of 7 million downtown in the slums and no one goes to Tech games. The vast majority of the "Tech" season tickets in the years the game with UGA are played at Tech are sold to Georgia fans who THROW AWAY all Georgia Tech season tickets except for The Georgia Game.
No wonder no one goes to Georgia Tech games we have all the tickets not them and we don't give a shit about them losing to the Citadel an FCS Division 1-AA team who doesn't even have a winning record 2019.  Ha ha ha.
Georgia Tech will do anything to win this game. They are BAD SPORTS.  At 3 wins 8 losses no bowl game but if they can beat UGA they will have "MADE THEIR SEASON."  Why play such GOD DAMN CHEATERS ?
Georgia Tech dropped-out of The SEC because they did not want Revenue-Sharing.  How stupid is that ?
Georgia Tech have not won a Major Bowl Game after the 1955 season
Georgia Tech has never ever won the Heisman
Georgia Tech is being punished as repeat violators of NCAA Major Infractions
Georgie tek has 6 national championships in football, although none ever in the AP Poll, and UGA has 6 national championships in football in every single poll Georgie tek claims their 6 in.  Every poll that ranked Georgie tek # 1, UGA has been ranked # 1 in as well – every poll they're ranked # 1 in.
6.2 wins per year last 62 years after 1957 Georgia Tech
5.1 losses per year last 62 years after 1957 Georgia Tech
UGA # 14 and Georgia Tech # 51 won/lost records starting 1957 not including this year
http://football.stassen.com/cgi-bin/records/calc-wp.pl?start=1957&end=2018&rpct=0&min=0&pt=on&by=Win+Pct
59 miles away really one county away from Atlanta
rambling wreck is train from 1893 NOT a Ford model T car from 1914
nerds
trade school
Georgie tek yellowjackets' Indoor Practice Facility is 87600 square feet compared to our new 100800 square feet facility.  They do NOT even have a full field.  It is 80 yards long only.  And it is designed to be UNSAFE with cement steel walls for their kids to run into where the 100-yard field and end zones are supposed to be.
They claim a "win" over Cumberland 222 to nothing, but Cumberland disbanded their football team the year before.  Cumberland beat Georgie tek in BASEBALL, and then after that in baseball season, Georgie tek demanded to play them in football.  The players were NOT members of the Cumberland Football team because there was NO Cumberland Football team and they played no one
Bobby Dodd ALWAYS LOST and NEVER BEAT Vince Dooley
Bobby Dodd is a COLLEGE DROP-OUT of University of Tennessee at Knoxville
Bobby Dodd quit SEC and coaching because he did NOT want SEC Revenue Sharing
$ 123 million UGA July 2017 sports' revenue annually # 15 in the nation.
$ 76 million GT July 2017 sports' revenue annually # 51 in the nation
$176 million UGA sports' revenue # 6 in nation 2019
$91 million Georgia Tech sports' revenue # 42 nation 2019 thanks to Bobby Dodd
I would know I was there.  I have the goods on Georgia Tech and always have.  Me.
Since 2017 UGA SEC revenue sharing has GONE UP while Tech's monies have NOT at the same rate
Zero AP Poll National Championships Georgia Tech football girl's tennis won one long ago
UGA has 6 national championships football in all the exact same polls tech claims their 6 in.  There is no poll which ranked Georgia Tech # 1 which has not ranked UGA # 1 as well.  It's a bullshit contention that Georgia Tech has more national championships in football or any other sport than UGA or that Georgia Tech has a more recent one since Colorado won the NC 1990 according to Authority AP Poll 1990.  Bullshit artists. Dumbasses.  Dumb shits.
And we have AP Poll national championship football Georgia Tech NEVER has won
Joey Hamilton was arrested on drugs and leaving the scene of the accident but he is some kind of a God Damn Hero to Georgia Tech although NOT for his arrests and NOT for his drug abuse.  Did he think I would NOT remember ?  AM680 the Fan.
Fight song promotes poor sportsmanship "TO HELL WITH GEORGIA" like my daddy used to do
210-158-2 we have a HUGE ADVANTAGE over Georgia Tech in BASEBALL
Bobby Dodd won only 64 of his last 105 games in football as GT head football coach 1957 to 1966.
The fortunes of college football changed in 1957 for Georgie tek and in 1964 for UGA and it has NEVER CHANGED SINCE nor will it
Why is Georgia Tech allowed to have its fight song sung to the tune of The Battle Hymn of the Republic ?  THAT is just WRONG and should not be allowed
When Charley Trippi is over FIGHTING in World War II with my Dad and Georgie tek yellowjackets were PLAYING FOOTBALL with PLAYERS who were NOT ENROLLED at Georgie tek but STATIONED there during the war does NOT make those games count.
They did the same thing in World War I too.  Look up their records for Hall of Fame players and see they played for OTHER TEAMS not them and then during World War I also they played there.  THAT is cheating too.
Georgie tek yellowjackets have won 6 national championships in football, although none ever in the AP Poll, and UGA has 6 national championships in football in every single poll Georgie tek claims their 6 in.  Every poll that ranked Georgie tek # 1, UGA has been ranked # 1 in as well – every poll they're ranked # 1 in.
SEC is (313-169-10) against ACC  http://mcubed.net/ncaaf/tvc/sec/acc.shtml
Georgia Tech is # 104 and Georgia # 4
Georgia Tech has given up 337 points and UGA only 118 points all season long
Georgia Tech is going to get its ass beat to hell and back spread 29 points UGA -29
The Georgie tek yellowjackets are on NCAA PROBATION as we speak they stay on Probation
"Repeat Offender" status with the NCAA Georgia Tech admits they BELONG on Probation
You buy a ticket and they give you 2 free cokes, 2 bags of boiled peanuts, and 2 free hot dogs, along with a parking pass. And still no one will go to the games and no one cares to except for The Georgia Game which they think they will miraculously win.  Bullshit.  Kick your God Damn cheating asses to Kingdom Come.
I really take exception to their fans : both of them
Georgia Tech have had 7 years of -0- wins and another 5 years of just 1 win all season
They have a 1914 Ford Model T which they TRY to call their Ramblin' Wreck but the facts on that are that in 1893 when they cheated and HIRED our players off our team who won at football, we stoned their train returning back to Atlanta and they rear-ended a freight train with the headlines on the AJ-C reading : Ramblin' Wreck Returns to Atlanta.  It has NOTHING to do with 1914 or a Model T, but a DAMNED TRAIN.
Noon ABC at Grant Field Georgia Tech Also at 10 am this morning Channel 803 Comcast ABC also has Bulldogs GameDay for an hour. Where is Georgia Tech's GameDay ?  Ha ha ha.
NOTHING clean about it and only old fashion is Tech USED to play football way back when
https://247sports.com/college/georgia-tech/Board/104176/Contents/Techs-Choice-Rejoin-SEC-or-Go-Broke-BarJacketpg1-53939151/
https://sports.usatoday.com/ncaa/finances/
(http://image.al.com/home/bama-media/width620/img/sports_impact/photo/kirby-smart-2016-g-dayjpg-693b499cdbf3fa1e.jpg )
Any difference in our crowd at our Spring Practice and their crowd at their spring practice ?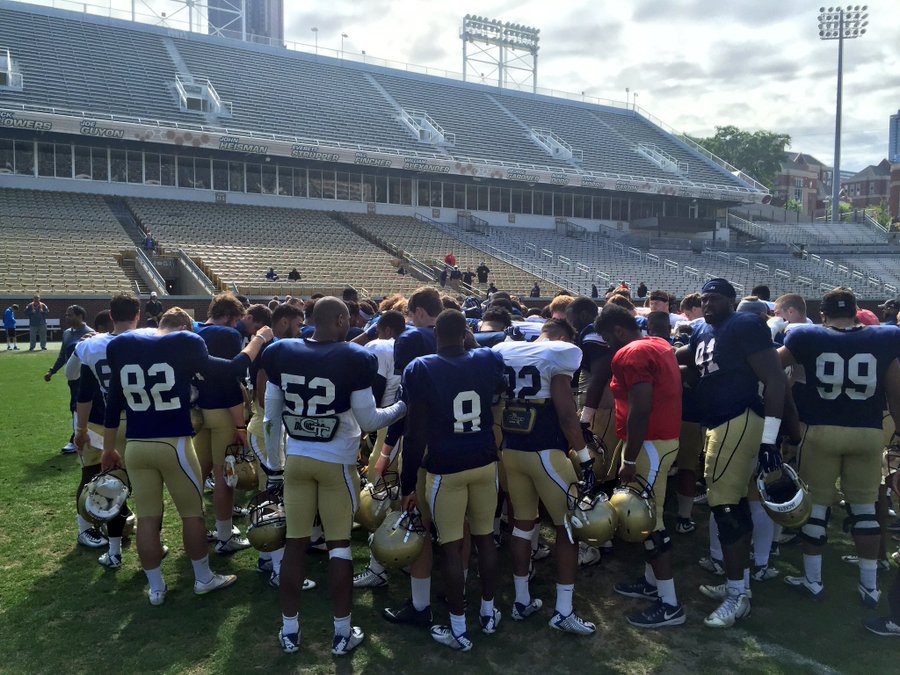 God I hate Georgia Tech.  I hate everything they stand for which is CHEATING and POOR SPORTSMANSHIP oh and LOSING.
https://www.ajc.com/blog/get-schooled/university-georgia-ranks-public-campuses-but-tech-still-ahead/Kqmn88vBi8QSpBsmHla4vK/
"We're # 35.  We're # 35 !"  No one runs around bragging they are # 35 at NOTHING.
Find a lady nerds.  Try kissing a woman.  You might like it.  We do.  You Fools.
To HELL with Georgia Tech like my Daddy used to do.
11-30-2019