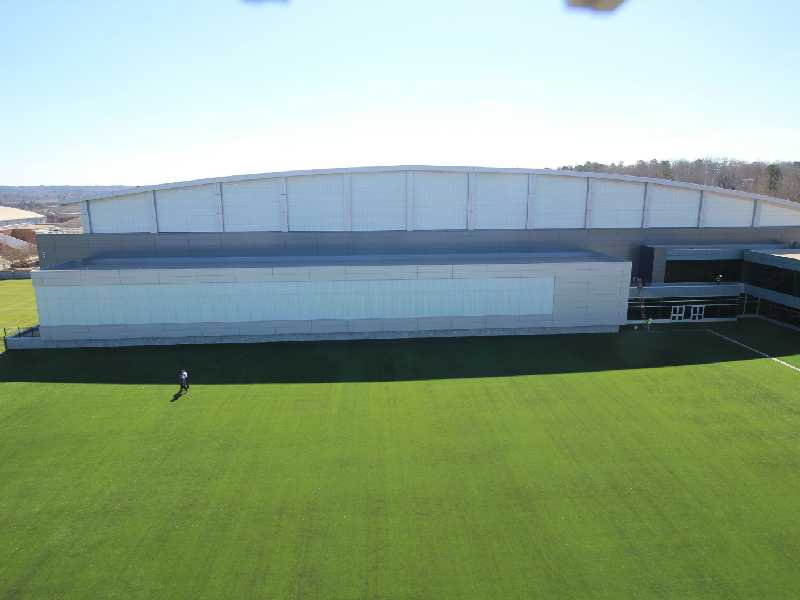 ( https://oxblue.com/archive/c510ad053386810836fe7860516f8e56/800×600.jpg?ts=1450824858 )
Georgia Bulldogs' fans don't have the expectations that Alabama fans have.
We can scratch-off not having an Indoor Practice Facility even if we haven't named it for Erk Russell yet.
Losing $ 25 million in Revenue having the game at Sanford every other year in the WLOCP.
Losing economic impact to # 1 College Football Town of $93.7 million* every 2 years no Florida.
Having sad home schedules for which we all pony-up so much money to watch 6 cupcakes.
Some schools get-in 9 "home" games for their team vols for example do so frequently.
We used to have a competitive disadvantage playing yellowjackets in Atlanta only.
We used to have a competitive disadvantage playing Auburn never in Athens either.
North Carolina we played them ANYWHERE but 'Tween the Hedges bill-it like you want : It's a disadvantage to NOT play a team at HOME ever.
Alabama we played them ANYWHERE but here too.
We fixed all that except Florida for some odd reason.
They even have a rule about no recruiting at the WLOCP. Seriously that is the only competitive advantage we could have having the game in that hellhole JAX where no one would ever go on Vacation least of all in November.
Traveling 6 hours away one-way to the site of the annual Gator Bowl to play Florida.
Freshmen always get jitters in big-games NOT AT HOME. If you can get a game in Atlanta 59 miles away then this is dissipated some.
The fan base STILL says we LOVE going to JAX hang what it means the players have to go through and hang how much it costs us in terms of keeping-up with the other SEC teams all using their expanded revenues to pass us by in terms of the size of their stadiums while we have to stand-pat without the funds to close-in the bridge with a view of Baxter Street where I grew-up.
We've needed a new gym to replace the Stegesaurus for 50 years with 1971 the last time we hosted a men's NCAA Tournament game here. All of these smaller schools with less profits than we have have spent their SEC revenue-sharing monies on a new gym even Ole Miss. A gym is part of what you show-off to prospective students and frequently we even invite football prospects to that old cow palace. Putting lipstick on a pig we have a new videoboard for the dilapidated rickety old gym. We watch as our top prospects in-state in both men's and women's basketball go to these OTHER smaller school's new gym and are excited to play in it while we stand-pat.
We have an Athletics' Director chose by Mike Adam$ who replaced Mike Adam$' previous A.D. hire Damon Evans prior to the 2010 football season. Greg McGarity is a former girl's tennis coach for a year who was NOT a great tennis player even himself and with all these challenges listed herein, he is who we have running the show. Sad. No wonder nothing happens on ANY of these fronts.
Since just prior to the 2010 season when Mike Adam$ installed Greg McGarity as our A.D. NONE OF OUR SPORTS have done a damn thing.
We suck in ALL sports spanning the ENTIRE Greg McGarity ERA.  This has put a damper on our recruiting while these other teams nearby try to catch-up with us.  If Greg McGarity continues as our A.D. then expect our issues across the board in all sports to likewise continue which is to say expect us to continue to lose in ALL SPORTS.  You do not put a man in charge of your entire Athletic Department and FORGET about him.  You keep him under close scrutiny.  Instead what we have done is to NOT GIVE HIM A RAISE.  Excuse me not give Greg McGarity a raise ?  He should have been FIRED with Mark Richt.  I take that back, he should NEVER have been made the A.D. nor the nincompoop before him.  Frick-and-Frack.  Two Bozos.  2 of the 3 Stooges and not Curly.
We don't have a single marquee sports' program right now and HAVE NOT all of Greg McGarity's tenure.  Is there a correlation between him NOT BEING READY TO BE A.D. and the RESULTS of his meddling ?
We have a rival in the main city of this state who hates our guts.  Even their fight song says their son if they had one would yell to Hell with Georgia like his daddy used to do.  Their fight song is poor sportsmanship and before I played them again they would change the words.  Leave it like that and they can kiss my ass if I would play them in ANY SPORT.  They think they're # 1 Princeton or Harvard at # 36 and every year we inch closer to them # 51 now U.S. News and World Report best college 2017.  They have half the program we have here and have for 50 years' time now.  We gain nothing by playing them except to help them.  There is nothing to be gained by beating them.  We have nothing to gain and everything to lose playing them.  There actually are fans of my alma mater who think we should continue playing them.  That because they call us their # 1 Rival that therefore they are ours instead of Florida who clearly is our # 1 Rival.
We have no competition in-state for our recruits in-state but we have the most competitive environment for the schools nearby who come into our state and steal our players.  There are a ton of these schools.  Clemson Auburn vols Alabama FSU South Carolina it is a never-ending onslaught every year for our top recruits in-state by all these schools who would not even have a team if they could not.
We've had a string of really nobody coaches.  If we hired top proven coaches they would rack-up here and we'd be Elite with all our talent we just simply waste EVERY year instead.
We just settle for mediocrity and do not demand the best.  South Carolina fans always struck me that way.  Happy to just be fans of their program.  And boy do they really support their team.  They don't care that they have never done a single thing ever in football.  They just are steadfast in their support.  They come across as if they just don't even care about winning.
Clemson too.  They used to say that Clemson pulled a Clemson and lost again.  Now that is we.  We are Clemson.  We lose every year to teams we have no business losing to.  This year it was Vandie and yellowjackets both 'Tween the hedges.  Unforgivable sins to lose to either and we lost to both.
We can't win the big game.  That is our Legacy now.  Now that Mark Richt has been replaced fired because he lost 18 of 24 games vs top 15 team the last 8 years # 45 in the nation vs top 15 teams the last 8 years, now Kirby loses 5 games his inaugural season.
And no one even says anything.  Not because we're numb.  It's what we do.
We resolve ourselves to our plight.
We act like there is nothing we can do.
We become content with the fact that we last won the national championship 37 years ago.
We refrain from doing anything which might improve our lot.
We don't even like when someone has the timidity to discuss it.
We have a huge disparity in so many more ladies at UGA and it's wonderful.  But our women's sports once our strength has become more of the same for Greg McGarity.  All our ladies' sports programs are pitiful and have been for the duration of this FAILED Greg McGarity Era.
We are in The SEC as a charter member with 15 big huge bowl games we played in on the national stage to end the seasons most of which we WON.  More than a third of our 29 bowl wins on the national stage.  However, for Greg McGarity they have just been mediocre 3rd tier bowl games no one wants to go to and no one watches.  Well we might watch our own team but no one else gives a rat's ass about a 6-6 TCU vs. a 7-5 Georgia Bulldogs.  Both could end-up 7-6.  Our guys are trying to get in shape now.
We each have our own destiny while there are those who never take-up the cause.
Fran Tarkenton is brilliant and calls it like it is.
David Greene is really smart and he calls it like it is.
The Georgia Bulldogs have a Destiny for Greatness.  What can you speak-up about to remove more of these competitive disadvantages by bringing them out into the open and make them a goal ?
*$93.7 million 2016 Economic Impact to the city of Athens # 1 college football town for NOT having Florida every other year based on this December 2016 Economic Impact Study listed here directly below.
N.B. college football is twice the number of fans of NFL NBA and ANY OTHER SPORT.  It also is the MOST EXCITING SPORT and my own personal hobby.
I personally believe we would find the Economic Impact on Athens to be in excess of $ 93.7 million every other year.  It's Florida.  Of course covering-up the Railroad Tracks was a big mistake.
What are we trying to do here ?
http://phys.org/news/2016-12-economic-impact-college-football-bowl.html
( http://phys.org/news/2016-12-economic-impact-college-football-bowl.html )
12-19-2016