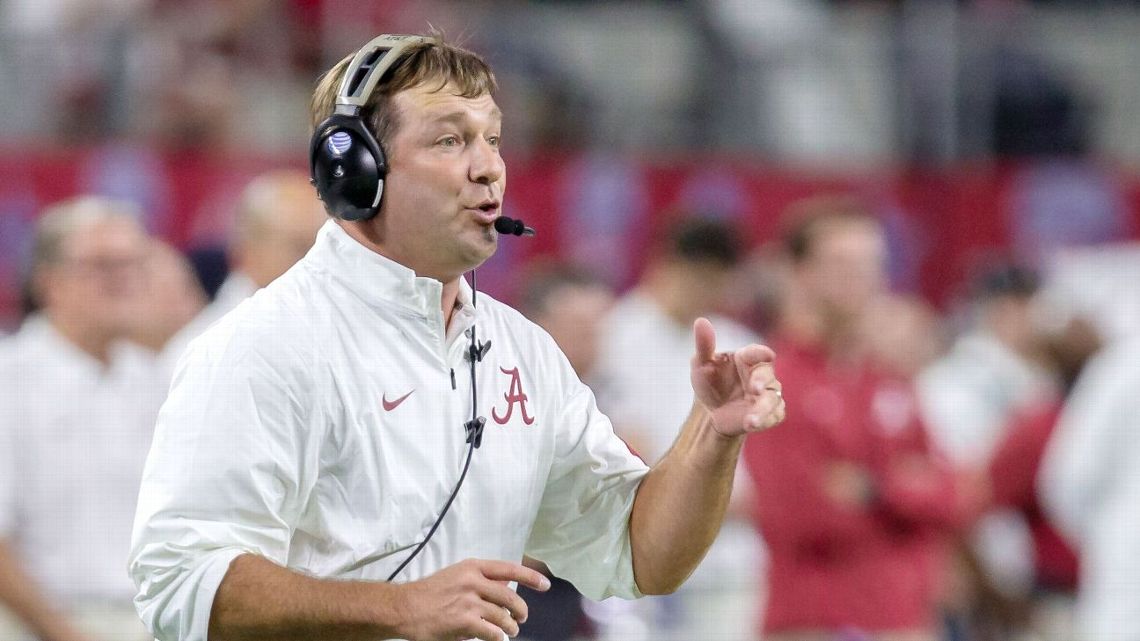 36 hours after his predecessor was FIRED, Kirby has been hired at his alma mater according to ESPN.  Kirby was offered this gig after the last regular season game as a feeler if Jere Morehead would approve, accepted instantaneously, and is going through the vetting process starting Sunday morning November 29, 2015 when he formally was offered the job by Jere Morehead through AD Greg McGarity. Kirby has coached here at Georgia TWICE before, FSU, LSU, Miami Dolphins, and Alabama.
1st team All-SEC defensive back hometown Bainbridge, Georgia, Kirby played with Champ Bailey and is 4-year letterman here, as well as 4-time All-SEC Academic Honor Roll – something I can appreciate and 1 of the major ingredients for him as our coach – that and his dogged determination and audibles he called at the line of scrimmage.  Academic All-America and 1st Team All-SEC after high school AAAA 1st Team All-State, Junior Beta Club, Beta Club, Dean's List and Honor Rolls !
This Coach is not like the FIRED guy !  He is truly Smart.
I am NOT falling for this shit that a player at Alabama who has had him for 5 years' time, is shaming him into staying 6 weeks' and 2 days.  Excuse me, Alabama, he is OUR COACH now.  If you wanted him, pony up the $5,380,200 we are paying him instead of your $1.3 million.
Broyles Award and AFCA FBS Assistant Coach of the Year winner, the Bulldog defensive back, is Nick Saban's top paid assistant coach, and 1 whom Nick Saban has specifically groomed to be a head coach.
Kirby Smart, long a desired coach here since his 2 previous stints on our staff, is the highest paid assistant coach in the nation at $ 1.35 million a year last year and this year, and has now been hired as our coach according to multiple sources.  We could have hired a seasoned proven head coach but I did list Kirby on a list of candidates. All the others were proven head coaches.
http://espn.go.com/college-football/story/_/id/14269857/georgia-bulldogs-name-kirby-smart-new-head-coach
He will not have to pay the $ 72,000 buy-out to take this job, per his contract.  Whether this means he only could keep Jeremy Pruitt here to help him, is unknown.
http://espn.go.com/college-football/story/_/id/9180008/alabama-crimson-tide-makes-kirby-smart-highest-paid-college-defensive-coordinator
His salary will be more than $ 4 million a year.
BBA degree 1999 UGA, same as mine – with Honors.
9 seasons, 7 as Defensive Coordinator / Linebackers at Alabama, it was time to move-on for Kirby.  He turned down the DC job here when his predecessor here elected to hire Todd Grantham; that was 2010; but Kirby thought long and hard about it.  He has turned down a multitude of head coaching jobs.  He is turning one down at South Carolina right now.
http://espn.go.com/ncf/news/story?id=4816735
Kirby brings his tireless recruiting prowess in this state, while his staff is unknown on the offensive side of the ball or special teams.  He is expected to name a special teams' coach.  He also kicked his predecessor here's butt in the games. That's always good !  Well, it wasn't at the time.
Kirby finished his career here with 13 interceptions – only 4 in history here have more – including 6 in 1997 and 5 in 1998.
http://www.rolltide.com/sports/m-footbl/mtt/smart_kirby00.html
If we did not hire Kirby, South Carolina would've to replace Spurrier. They are left holding the bag.  Expect the announcement this time next week, by which time Nick Saban will be confirmed as playing for his 4th National Championship with Kirby Smart at Alabama – all 4 with Kirby Smart as the Defensive Coordinator !
I'd rather Kirby coach us in the bowl game in Memphis.
That was 1 of the mistakes his predecessor made here, not wanting to come here 20 December 2000 when Vince Dooley hired him.  In fact, it was going to be AFTER Signing Day 2001 in mid-February if Vince Dooley had not finally put his foot down about it !  He wanted to coach FSU against Oklahoma where his offense looked like warmed-over death – his offense SHUT-OUT !
This was not good for UGA then in 2 ways.   Kirby's predecessor looked bad; and he was not here.  Then he wanted to say goodbye to his Church in Tallahassee – for 2 months – then, he wanted after all that, to go to an NCAA sponsored Assistant Coach seminar for the 1st two weeks of February.  Then, come here.
His predecessor said he had knocked the lid off this All-Time # 11 Wins' Program 2001 thereafter beating # 4 vols 2001, but it was in fact a season in which he went 8-4.  He was behind the 8-ball snookered before he ever decided to show-up.  Our recruiting class was left to be held together by Rodney Garner . In fact, Rodney Garner was the coach for all this time, the only coach.
This is a mistake I would like to obviate this time around.  You may recall there was turmoil here at that time and that Kirby Smart's predecessor had to kick several notable players off the team during all this feet dragging on getting here such as Quincy Carter  whom he kicked-off via remote control from Tallahassee.
A Coach is responsible for his team once he takes the job !  We have a class coming-in in a few days' time now today that need this information and need Kirby here ! 
Expect that there will be total transparency with Kirby Smart, as he is Smart enough to know all this !  You do not hide information like it is some secret, and of course you do not go into December without a concept in the world who your QB is, nor having even then prepared the back-up for 2016.  Expect under Kirby that suspended players will be announced as punishment – not mixed message that it's a secret, like it's ok what they did.
Kirby's responsibilities at Alabama are over when this is announced.  His livelihood for him, his family, his friends, and for all Bulldogs are reliant upon him taking over what has been a good program under his predecessors here and make it great again !
He will not accomplish this as a lame duck there.  That has NO MEANING any more to him to be coaching anything in Tuscaloosa.  His predecessor here had fans back then and still really today holding on for God knows why; and, they told me I was wrong about that and that it would be great for him to win the national championship at FSU.  They were as wrong about that, as they were about everything since.  Weren't they ?  Let's get this right this time please, ok ?  All of us together please ?
Kirby Smart coached at LSU with Nick Saban in 2004 when Jimbo Fisher was the Offensive Coordinator and Will Muschamp was the Defensive Coordinator.  Then, he came here as our running backs' coach and Won The SEC Championship 2005.  Since then, he has been with Nick Saban with the Dophins and then Alabama.
He spent a couple of good years with Bobby Bowden, too, when his predecessor here now was not there then.
So we have all been huge fans of Kirby Smart forever !
April 16, 2013 :
"Ultimately, my goal in my career is to be a head coach," Smart told reporters before the BCS National Championship Game in January 2013. "Where that is, I have no idea. It's not like I wake up every day trying to leave Alabama. I have the best non-head coaching job in the country, period"
http://espn.go.com/college-football/story/_/id/9180008/alabama-crimson-tide-makes-kirby-smart-highest-paid-college-defensive-coordinator
2010 :
"We're very pleased and happy that Kirby is going to be staying here at the University of Alabama with us," Saban said. "He's done a fabulous job for us. He's one of the finest assistant coaches in the country. You expect guys like Kirby to get lots of opportunities to do things, and we want to continue to help him continue to develop his career here so that when he leaves here it's going to be as a head coach and probably in a very good situation. So we're excited about that. We're happy for him and his family. It's very pleasing to us."
http://espn.go.com/ncf/news/story?id=4816735
Kirby Smart was groomed specifically for this job, his lifetime dream job – unlike his predecessor who was not taken under the wing of Bobby Bowden who was fired from FSU.
The bar is set this high for Kirby Smart : That he do better than 37-1 vs non-bowl teams and 36-31 vs teams making a bowl game over the next 8 years and average better than the 73-32 four (4) losses per season.  While he needs to be getting us on the Big Stage at the end of the seasons beating better than # 19 Hawai'i 2007 and # 21 FSU 5-loss team 2002 in the Final AP Poll as the only 2 BCS Bowls his predecessor won, and as his best 2 bowl wins. And, that he develop his back-up QB every year, while not sending mixed messages to the student-athletes, and be better than 5 wins in 15 games against our # 1 Rival. If he can get the game out of that hell hole in Jacksonville, that would be an added plus.  Kirby is expected to win The SEC Championship more often than none in a decade.
Kirby should do better than 7 losses by more than 3 TD in 8 years and better than 12 losses to unranked teams time of game or for season in 8 years' time, while maintaining an average Scout.com Recruiting Rank of # 8 with high numbers of NFL Draft Picks and while not getting us on Probation.  His goals in discipline are to teach the kids to obey the rules on and off the field, and not send them mixed messages about their objectives on or off the field.  They are here to win, keep their noses clean, graduate –  and whether they are saved or not, is of no concern whatsoever :  It's a conflict of interest and in Violation of The United States Constitution.
Kirby is being asked to do BETTER than the 73-32 record of his predecessor who was FIRED from his job for his 73-32 his last 8 years here. 9-4 average season for 8 years – THIS is why he was fired.  There seems to be some confusion why he was FIRED.  This is it !  He was NOT fired for his record since 2001 here, but because of his record after 2007.  See to it that you note this, remember this, and state this, not what he did here from 2001. 
Had he won at his 80 % win percentage he had Game 5 of 2008 at kick-off vs Kirby Smart in the Black-Out Game behind 0-31 at half, the favored and higher ranked team, he would not be FIRED and replaced by a BETTER COACH in EVERYONE'S EYES !
Most especially mine, who by the way you NEVER DID SHUT UP.
Did you ?
9-4 for 8 years.
0 SEC Championships in a decade.
The Apologists are holding a vigil today on Facebook for the guy who is the Miami of Florida head coach ?  Seriously guys, give it the Hell up.  You LOST.  I won.  It was I who FIRED him, and you are jealous as Hell of ME for doing so.
Get over it guys !
YOU LOST !
I won and so too did the VAST MAJORITY of The Bulldog Nation !
Hopefully, the fans of his predecessor can put that behind them now and can unify under Kirby Smart.  They will always be comparing his predecessor to Kirby Smart because they made so many nasty comments online about it to the point where they have to save face, so Kirby needs to accomplish these specific goals listed here, along with getting here as soon as possible after December 6 Sunday because of this aforementioned in-coming class.
The Bulldog Nation has clearly been a divided nation for at least 8 years now because the predecessor had fans who have been very derisive and have held this program back for years and years and years and years with their low expectations for our program, excuses, and their attitude toward any and every one who wanted more as not as good a fan of this football program as themselves.
There will not be any reason for that moving forward.  Get over it, you and the predecessor lost.  I won and so did the vast majority of The Bulldog Nation !
Kirby's predecessor was # 41 in the nation win/loss record vs top 15 teams 18 losses of the 24 such games after 2007 – his last entire 8 years here
and
Kirby's predecessor averaged 4 losses 9-4 average 73-32 his last entire 8 years here as our coach.
For this, Greg McGarity called Kirby Smart after the Georgie tek yellowjacket's debacle.
Kirby ACCEPTED instantly November 28, 2015.
Kirby's predecessor jumped on a plane having worked for his boss Greg McGarity for 6 entire full complete seasons.  Together they had compiled a record – not a mini record – their record together of 55-24 for their 6 entire seasons together Greg McGarity his boss and he – averaging 4-losses per season for their 6 seasons together.
http://www.cfbtrivia.com/cfbt_detail.php?fry=2010&thy=2015&teamname=Georgia&cres=1
He KNEW therefore that he was being FIRED in the morning and did all he could do to squirrel-up the recruitment of Jake Eason, Jacob you call him.  Make it as hard as he could on the man to replace him, since he KNEW he was being FIRED in the morning.
Mark Richt was mean-spirited and STUBBORN as HELL his entire 15 years here.  He made decisions which were indicative of this stubborn trait of his – which is completely against all my teachings of Christianity.  Christians are not stubborn.  In fact, Christians are anything but.  This is the antithesis of being a Christian to be stubborn.  Still, daily for 15 years, he was in fact VERY stubborn about EVERYTHING he said and did here.
It cost him his job.
No one will argue that he was stubborn his entire 15-year period.
Christians do NOT demonstrate this stubborn trait.  Christians are the antithesis of this.
He was pigheaded that God did NOT CALL him to this Calling as football coach but to be a preacher man he told us all 15 years here – that there was something besides winning that was important here at Georgia.  That if he was judged just as being a college football coach, that that would be a DISASTER he said repeatedly to us ALL for 15 years.
Excuse me, we tried to pay you over $ 4 million a year to coach us and did pay you MORE than $ 50 million dollars to win football games.
What your personal goal was and remains stubbornly as winning other over to Jesus Christ as THEIR Lord and Savior is NOT what we paid you more than $ 50 million dollars for.
You stubbornly refused to sign the new contract.
It does NOT exist.
We are NOT held by that contract which you STUBBORNLY refused to sign.
Hit the road Jack.
FIRED.
Summarily.
"There's something besides winning that's important here at Georgia."
The hell you say dumbass.
Stubborn dumbass.
We paid you to win.  You did so for 7 years and then for the last 8 years, you did NOT.
You do not work for a BOSS for 6 years and not know you are being FIRED in the morning for averaging 4-loss season for all 6 years together.
He knew that.
THAT was the only reason he went to Washington to meet with Jake Eason.  It was another in a long string of dumb moves by Kirby's predecessor.
As soon as Greg McGarity knew of the plane trip out there, he immediately called Kirby to feel-out if Kirby would accept this job if Jere Morehead would approve it ?
Kirby said it was his "lifetime ambition."
Then, the next day, Sunday 29 November 2015 Jere Morehead FIRED Kirby's predecessor and asked Greg McGarity to meet with the press.
Then, Ben Cleveland – our OL recruit 2016 Signing Class February 2016 – had to call Jake Eason and explain to him that Kirby's predecessor had been fired.
Jacob Eason – Jake – opened up his recruitment to include Florida and Notre Dame.
For their 6 seasons together Kirby's predecessor and Greg McGarity as his boss, they had gone 10-17 vs ranked teams time of game with # 8 Scout.com average recruiting ranking.
2-12 vs Top 10 opponents for the season with # 8 average recruit rank
9-20 vs ranked opponents for the season with # 8 average recruit rank
30-1 vs non-bowl teams
25-23 vs bowl teams ostensibly likely as not to lose to any bowl team
http://www.cfbtrivia.com/cfbt_detail.php?fry=2010&thy=2015&teamname=Georgia&cres=1
This was beyond intolerable.
He was NOT fired for what he did since 2001.
Do NOT tell me or anyone EVER AGAIN that he was this or that for his CAREER here for NONE OF US wanted him fired until 2008.
Bringing up an entire career record including 2001-2007 is FRUITLESS on your part because you know damn well that EVERY REPLY on the Internet to you will be that this is what he did for his last entire 8 seasons with us and why
JERE MOREHAD FIRED Kirby's predecessor.
Quit your whining about Kirby's predecessor being FIRED.
Do NOT call him forced-out or resigned or ask to leave or ousted –
JERE MOREHEAD FIRED him.
Grow up.
For the last entire 8 years you have held The Georgia Bulldogs' Football Program up and held us back, giving us ALL Hell and NOTHING BUT EXCUSES, and have always tried to discuss what he did 2001-2007 as not a mini-record of his.  Saying you had to list his ENTIRE CAREER here.
Yes he is a fine Christian man.
That is NOT why he was FIRED.
He was NOT FIRED for his entire career record here.
It was for his last entire 8 years here.
It is HARDLY  a "mini-record" when it IS his entire last 8 seasons here.
That is a MAX-RECORD.
8 years.
Not a mini-record.
He was NOT FLEXIBLE here. NEVER.  NEVER-EVER.  Nothing he did or said demonstrated flexible as his trait.  Christians are FLEXIBLE.  He was NOT.  Not once was he FLEXIBLE.
I call that mean-spirited.
I call you mean-spirited.
You BULLIED me for these last entire 8 years when I TURNED on him.
He bullied the players – my heroes.  He played favorites.  He did not get our best players on the field enough.  When he did, he was NOT FLEXIBLE with them.
He ran off Jacob Park whom I hoped to be a 4-year starter for us because he was NOT FLEXIBLE.
He was not flexible with Cam Newton whom he told could only be TE here.
He was NOT flexible from the get-go here demanding ONLY that DJ Shockley be redshirted.    That's not flexible.  That's not the opposite or antonym of stubborn.
He was stubborn as HELL.
15 years of being stubborn.
He was FIRED for being STUBBORN.
Kirby needs the experience to kick-off his career here – as he could not possibly have been taught by Nick Saban how to not manage the game as poorly with regards to time-outs, developing his talent, not playing favorites, and when to settle for field goals as his predecessor.
I do NOT want a lame duck coach who is not the head coach to coach my football team in the Bowl Game.
NOT.
That's just all wrong !  Nothing right about that at all.
Nick Saban should already know that he can not go into the Play-Offs with a Defensive Coordinator who is divided on his loyalties. He is distracted, and needs to be spending his time thinking about THIS JOB – his life's Calling !  He's going to be anyway, and Nick Saban's best bet is to coach the Defense himself for a game or 2 after Sunday !
Kirby Smart has not coached ?
Bryan McClendon has ?
That's why Bryan McClendon should coach this game ?
Look, Kirby Smart needs to make these calls during this game.  He is the coach.
Turn him loose Nick Saban !
You wrote it into his contract he could take this gig without penalty.  You had to know he needs to not be involved in some dragging-out there once he did take this job sir !
Keep your salary there starting Sunday, and we will start paying him here.
He needs to be directed ONLY to his Life's Calling : Here, Nick Saban.
Surely you know this !
The commits and the open prospects, both, have re-acted as Home Run too, for this hire as the best fit :
UGA commits react to Kirby Smart hire: "I think he was the best fit"
https://www.seccountry.com/alabama/uga-commits-react-to-kirby-smart-hire-i-think-he-was-the-best-fit
He has a son Andrew and 2 twin daughters Weston and Julia with Mary Beth Lycett Smart, who was the Lady Bulldogs' only senior in 2002-03, letterman 4 years as well here 2000-2003.
http://www.georgiadogs.com/sports/w-baskbl/spec-rel/062806aax.html
She was fun to watch play and an outstanding shooter.
She came to The Lady Bulldogs as Miss Georgia Basketball 1999 and joined a strong team of Andy Landers playing with WNBA players the twins­ Kelly Miller, Coco Miller, Deanna "Tweety" Nolan and Kiesha Brown.
http://www.georgiadogs.com/sports/w-baskbl/spec-rel/0203-wrap.html
She was on The SEC Good Works Team.
She graduated from The University of Georgia and has her degree, like me, from here; and she started 51 games for Andy Landers in the backcourt with all this talent around her !  Those teams, I never missed a game of, could shoot !
This year's team not so much, but The Lady Bulldogs did beat Georgie tek yellowjackets, and only have 1 loss so far on the season, although they have quite a challenge at home coming-up against Seton Hall whose men just beat the Hoops' Dawgs' Men's team of Mark Fox.
The Lady Bulldogs averaged 23 wins a season with Mary Beth Lycett Smart.
The Lady Bulldogs this season are coached by Joni Taylor, as our only 2nd full-time coach in our entire history.  Mary Beth Lycett Smart is quite the blogger herself and home is only an hour and a quarter from Athens, so she is on the scene here all the time.  The men are 2-2 but did beat Murray State.
http://realtimerpi.com/rpi_356_Men.html
Remember her now ?  I sure do.  Beautiful lady.  Her long flowing blonde hair was a trademark when she would drain her outside shot !
The Lady Bulldogs are on TV tonight at 7pm from Athens on SEC Network, but my Comcast does not indicate that.  You can watch it on your Smart TV if your HDTV is Smart enough for that here :
http://www.georgiadogs.com/sports/w-baskbl/sched/geo-w-baskbl-sched.html
Or, if not, then you can watch us 3-0 at home take on Mercer tonight on your smart phone or laptop.  The Lady Bulldogs are # 63 in the RPI so they still are on target to get to the NCAA Tournament which they missed last year believe it or not.  Mary Beth Lycett Smart never did.
http://realtimerpi.com/rpi_356_Women.html
Maybe they together can get us a replacement for the Stegosaurus !
Welcome Home !
GATA !
Home Run !
It's Great to be a Georgia Bulldog !
12-2-2015