Cordele Georgia fun place great folks 150 miles straight South on I-75.
Here it is :
http://www.ajc.com/sports/college/watch-quay-walker-throws-tennessee-hat-the-ground-epic-georgia-selection/swzmgzD4xOv4L119TLu4TJ/
Come on folks.  He took the hat off.  It was not intended to fly across the room.  You can see that.  Someone added a sound to the recording too.
I support Quay on this.  I guess you can tell that.  It is NOT how vols fans make it out – at ALL.
Four-star OLB Quay Walker flips from Alabama to Georgia
(http://usatodayhss.com/2018/four-star-olb-quay-walker-flips-from-alabama-to-Georgia)
Da'Rick Rogers born here in Atlanta got into it on Twitter with Bacarri Rambo when he de-committed to Mark Richt.
Jamal Lewis from Douglass High here in Atlanta went to the vols and just was unbearable in his quotes in the local rags here about how he said : "UGA only plays there for the Peach Bowl : at Tennessee – we don't play in the Peach Bowl."
Even though Jamal Lewis would later go to Federal Prison released August 2, 2005, the damage he did in giving this headline quote to the press, led their fans here to quote that to us daily.
Jamal Lewis.   Tee Martin took payments from vols fans of $7 thousand dollars repeatedly at 7-11 stores to win his tainted national championship in 1998.  Travis Henry also went to federal prison.   This is who played together and have dominated the news about the vols' trashy football program since 1998.
It's God Awful.
https://pbs.twimg.com/media/DK1MrAdVYAEsYu4.jpg:large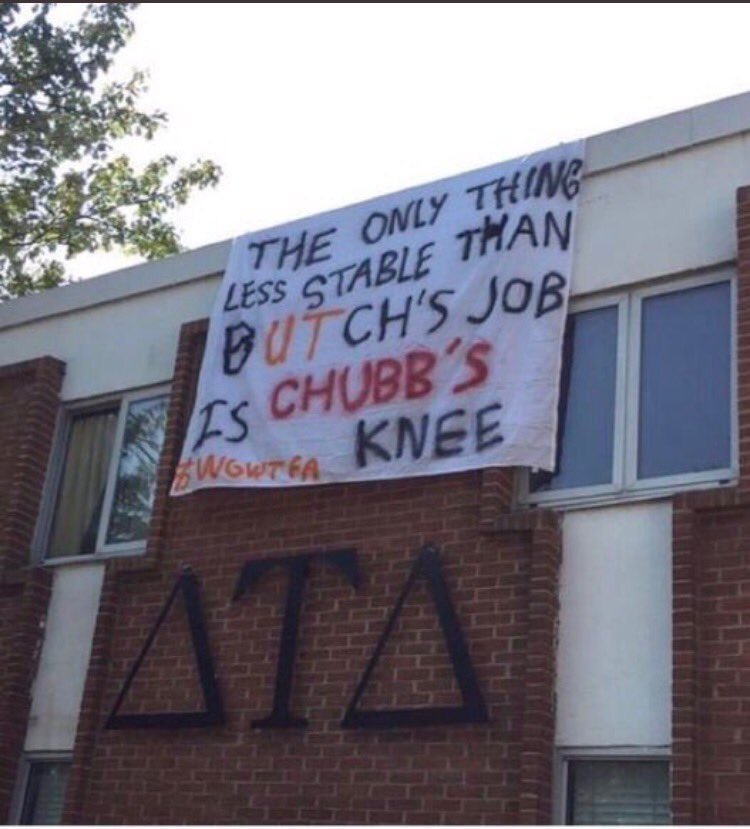 # 34 won/loss record since 1999 vols while UGA is # 6 same timeframe.
It's been a LONG TIME of MISERY for vols fans.
So they WHINE.
http://football.stassen.com/cgi-bin/records/calc-wp.pl?start=1999&end=2017&rpct=&min=&pt=on&by=Win+Pct
The kid wanted to come to Georgia.  He is from here you know ?  You really thought he wanted to play there ?
Your record is 142-97 starting 1999.   vols # 34 at 59%.
Our record is 191-71 starting 1999.  We're # 6 at 73%
2 decades twenty years of being BAD vols.
Here vols fans stick THIS up your God Damn ASSHOLE.
Got it vols fans ?
NONE of these kids remember when vols EVER were ANY DAMN GOOD.
You get that ?
No one on our team remembers when vols were any damn good at football at all whatsoever.
For the latest decade now vols have not even been ranked.
# 106 U.S. News and World Report Rankings Top Colleges University of Tennessee at Knoxville.
You suck at football and your school SUCKS.
# 56.  UGA.  We are twice as good a college as Tennessee.
He flung your God Damn bullshit hat across the piss ant room ?
STFU.
Get the hell over yourselves.
Go WHINE to somebody who gives a SHIT.
Kids this age today – this is ALL they know about vols.
Can you just imagine how much vols hate us ?
Played for national championship now # 1 recruiting class.
vols are NOT HAPPY folks.
Alvin Kamara – he gets kicked-out of Alabama by Nick Saban and vols take him in.  This is how badly vols want us.
And now Quay does what everyone does and the vols hat flies farther than expected.
Quit making a rocky top mountain out of a mole hill – you're just butthurt because for 2 decades 20 years you have won only 59% of your games can NOT recruit and are # 106 best college.
Face it vols we don't give a shit how much you make of this.
I do NOT give a shit what you think vols.
http://www.ajc.com/sports/watch-quay-walker-throws-vols-hat-picks-uga-over-alabama-tennessee/tjigHnw46eMqubOhXCXtHJ/
https://www.seccountry.com/tennessee/watch-quay-walker-throws-tennessee-hat-ground-picking-georgia
https://www.dawgnation.com/football/georgia-signee-quay-walker-responds-angry-tennessee-fans-throwing-vols-hat-commitment-ceremony
https://www.saturdaydownsouth.com/georgia-football/kirby-smart-comments-georgia-signee-quay-walkers-decision-throw-tennessee-hat/
2-8-2018